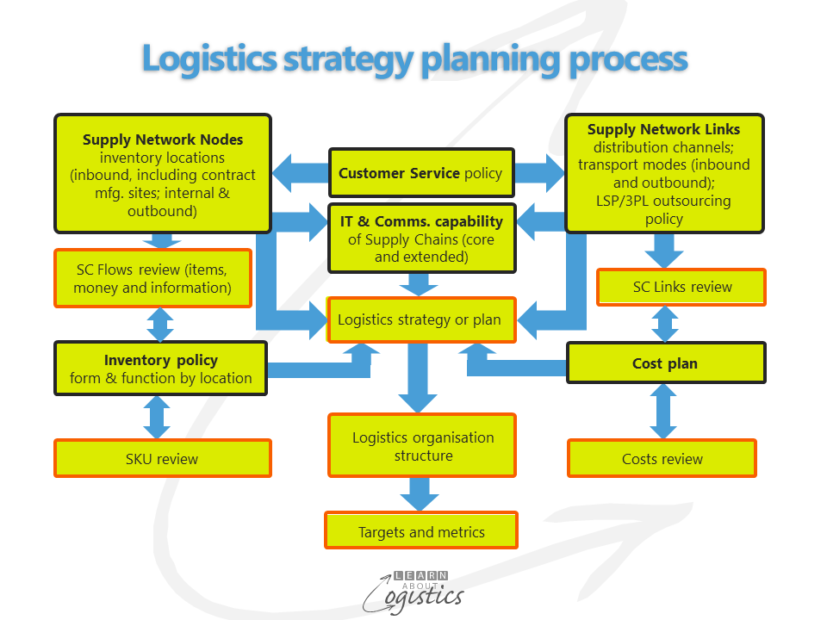 There are three main steps to review the background and current Logistics situation:
Specific Logistics factors about products that influence the design of each supply chain:
Volume : weight ratio of the item
Value : weight ratio of the item
Availability – the lead time required by the customer or end user, therefore requirements concerning delivery and inventory
Product security risk issues with an item:

Perishable
Contamination
Flammable/explosive
High value/theft potential
2. Consideration of each product group to identify:
how close to markets or materials the product should be made
geographic location where products will be made or sourced
how products will be moved and stored
the modes of transport to use
3. Four reviews: Supply Chain flows; items (SKUs); Supply Chain links and costs
Within the review process of nodes and links is the outsourcing policy. This is the extent to which an enterprise will 'make' (do something within the business) or 'buy' (contract another party to do something). It includes the policy regarding Logistics service providers (LSPs), which includes third party logistics (3PL) providers. While outsourcing may be treated as an operational transaction, strategically it relates to decisions concerning the degree of vertical integration within an enterprise. Within the outsourcing policies will be considerations about off-shoring, near-shoring and in-sourcing (returning outsourced activities to in-house).
The Logistics Strategy plan is then developed within eight elements:
Customer service policy – the appropriate level of service for customers, by product group or market segment; considering: order fulfilment requirements, enquiry and investigation capability and the available information. The customer service policy informs the nodes and links of the supply network
Inventory location policy (Supply Network nodes) – centralised or decentralised inventory; whether to differentiate facilities by fast and slow moving stock; location of sites; use of specific technologies and layouts; company-owned or contracted facilities
Inventory policy – form and function of inventory by location; the appropriate amount of stock to hold for various groups of inventory; planning structure that links outbound and inbound materials
Cost plan – trade-off analysis between cost and service level requirements; cost of Logistics operations
Transport and distribution (Supply Network links) policy – affected by whether enterprise imports or exports and the size and structure of conurbations being served. This incorporates transport modes, delivery pattern and storage location considerations, based on the time taken for deliveries.
IT and Communications capability: technologies (including software) that will be internally developed; buy planning and scheduling applications from single supplier or obtain 'best of breed' applications
Logistics organisation structure: function or flow based; allocation of responsibilities; managed or self-managed teams
Logistics Targets and metrics: measures of performance and achievement targets; operations improvements process and management